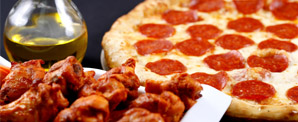 We offer off-premises catering for all occasions. Choose pick-up or delivery. Our associates will even help with setup.
Franco's Specials
WEEKLY SPECIALS
1. Peachy Keen Salad – $7.99 with Chicken $11.99
Mixed greens topped with peaches, dried cranberries, onions, pecans, feta cheese and balsamic vinaigrette dressing.
2. Soup and 6" Fish Sandwich – $11.99
Choice of small soup (chicken noodle, pasta fagioli, lentil or minestroni) and choice of any 6" fish sandwich (fish filet, tuna fish, or shrimp parm).
3. Half 6" Grilled Chicken Sandwich with Fries – $10.49
Grilled chicken topped with fresh mozzarella and roasted peppers on Italian bread. Served with a side of fries.
4. Chicken Cutlet Panini – $10.49
Breaded chicken cutlet, fresh mozzarella, roasted peppers and arugula on Italian bread. Includes bag of chips.
5. Slice & Greens Combo – $7.25
One cheese slice (toppings extra) and choice of side Caesar or tossed salad.
6. Eggplant Rollatini – $13.49
Breaded eggplant stuffed with ricotta cheese and topped with tomato sauce and mozzarella cheese. Served with a side salad.
———————————————————————————
FAMILY DEALS
FAMILY DEAL #1 – $29.99
Large 18″ Pizza, 8 Wings, 2 Liter Soda
FAMILY DEAL #2 – $34.99
Large 18″ Pizza, Tossed Salad, Mozzarella Sticks, 2 Liter Soda
FAMILY DEAL #3 – $53.99
2 Large 18″ Pizzas, 12 Garlic Knots, Antipasto, 2 Liter Soda
FAMILY DEAL #4 – $39.99
Large 18″ Pizza, 2 – 10″ Sandwiches (Your choice of any 2), 2 Liter Soda
Offers Cannot be Combined • Sales Tax not Included