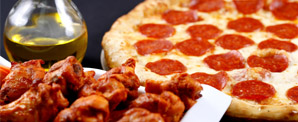 We offer off-premises catering for all occasions. Choose pick-up or delivery. Our associates will even help with setup.
Franco's Specials
WEEKLY SPECIALS: MONDAY, MAY 29 – SUNDAY, JUNE 4
1. Chicken Ranch Salad – $10.99
Mixed greens topped with breaded chicken, provolone cheese, tomatoes, cucumbers, olives and ranch dressing.
2. Soup & Greens Combo – $8.25
Choice of small soup (chicken noodle, lentil, pasta fagioli or minestrone) and choice of side Tossed or Caesar salad.
3. Half 6" Eggplant Sandwich with Fries – $9.99
Breaded eggplant topped with fresh mozzarella, roasted peppers and arugula. Served with a side of fries.
4. 10" Turkey & Cheese Sandwich – $11.75
Sliced turkey with provolone cheese topped with lettuce, tomatoes, onions, oil and vinegar. Served with a bag of chips.
5. Buffalo Chicken Fingers with Fries – $11.75
Chicken fingers in a buffalo sauce with side of fries.
6. Sausage & Peppers Platter – $12.99
Italian sausage and peppers in our tomato sauce in a dish. Served with a side salad.
———————————————————————————
FAMILY DEALS
FAMILY DEAL #1 – $29.99
Large 18″ Pizza, 8 Wings, 2 Liter Soda
FAMILY DEAL #2 – $34.99
Large 18″ Pizza, Tossed Salad, Mozzarella Sticks, 2 Liter Soda
FAMILY DEAL #3 – $53.99
2 Large 18″ Pizzas, 12 Garlic Knots, Antipasto, 2 Liter Soda
FAMILY DEAL #4 – $39.99
Large 18″ Pizza, 2 – 10″ Sandwiches (Your choice of any 2), 2 Liter Soda
Offers Cannot be Combined • Sales Tax not Included