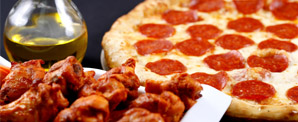 We offer off-premises catering for all occasions. Choose pick-up or delivery. Our associates will even help with setup.
Monday, June 10 – Sunday, June 16
Check back weekly for new specials!
1) Tart Apple Salad – $6.99
with Chicken – $8.99
Mesculin spring mix with apples, dried cherries, walnuts, feta cheese and choice of raspberry or balsamic vinaigrette dressing.
2) Soup & Any 6" Fish Sandwich – $8.25
Choice of small soup (chicken noodle, pasta fagioli, lentil or minestrone) and choice of any 6" fish sandwich (fish filet, tuna fish or shrimp parm).
3) Half 6" Cheesesteak Sandwich with Fries – $7.99
Philly steak topped with American cheese, peppers and onions.
Served with a side of French fries.
4) Whole 10" Grilled Chicken on Garlic Bread – $8.49
Grilled chicken with fresh mozzarella and roasted peppers on homemade garlic bread. Includes bag of chips.
5) Pizza & Garlic Knots Combo – $5.99
2 Cheese Slices (toppings extra) & 3 Garlic Knots.
6) Pasta with Meatballs - $11.99
Choice of pasta with tomato sauce topped with homemade meatballs. Includes salad.
Franco's Specials
MONDAY – CHICKEN DINNER NIGHT
Any Chicken Dinner for $11.99 (Includes Pasta & Salad)
4-8pm, Dine in Only
TUESDAY – PIZZA NIGHT
Large 18″ Pizza for $9.99 (Limit 2 • Toppings Extra • Excludes Specialty Pizzas)
4-8pm, Dine in Only
FAMILY DEAL #1 – $22.99
Large 18″ Pizza, 8 Wings, 2 Liter Soda (Pitcher for Dine In)
FAMILY DEAL #2 – $29.99
Large 18″ Pizza, Large Tossed Salad, Mozzarella Sticks, 2 Liter Soda (Pitcher for Dine In)
FAMILY DEAL #3 – $43.99
2 Large 18″ Pizzas, 12 Garlic Knots, Large Antipasto, 2 Liter Soda (Pitcher for Dine In)
FAMILY DEAL #4 – $30.99
Large 18″ Pizza, 2 – 10″ Sandwiches (Your choice of any 2), 2 Liter Soda (Pitcher for Dine In)
Offers Cannot be Combined • Sales Tax not Included