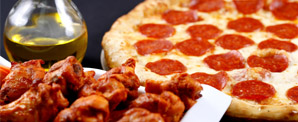 We offer off-premises catering for all occasions. Choose pick-up or delivery. Our associates will even help with setup.
Monday, November 12 – Sunday, November 18
Check back weekly for new specials!
1) Peachy Keen Salad – $6.49
with Chicken – $8.49
Mixed greens topped with peaches, dried cranberries, onions, pecans, feta cheese and balsamic vinaigrette dressing.
2) Soup & Choice of Fish Sandwich – $7.49
Choice of small soup (chicken noodle, pasta fagioli, lentil or minestrone) and choice of any 6" fish sandwich (fish filet, tuna fish or shrimp parm).
3) Cracker Pizza – $6.49
Ultra-thin crust pizza topped with tomato sauce and mozzarella cheese. (Toppings Extra).
4) Turkey, Ham & Swiss Wrap – $7.49
Sliced turkey, ham and Swiss cheese with lettuce, tomatoes and mayo on your choice of a plain or whole wheat wrap. Includes bag of chips.
5) Slice, Wings, & Stix – $7.99
One Cheese Slice, 4 Buffalo Wings and 4 Mozzarella Sticks.
6) Pasta with Meatballs – $10.99
Your choice of pasta in tomato sauce topped with 2 large homemade meatballs. Includes your choice of soup or salad.
Franco's Specials
MONDAY – CHICKEN DINNER NIGHT
Any Chicken Dinner for $9.99 (Includes Pasta & Choice of Soup or Salad)
4-8pm, Dine in Only
TUESDAY – PIZZA NIGHT
Large 18″ Pizza for $9.99 (Limit 2 • Toppings Extra • Excludes Specialty Pizzas)
4-8pm, Dine in Only
FAMILY DEAL #1 – $21.99
Large 18″ Pizza, 8 Wings, 2 Liter Soda (Pitcher for Dine In)
FAMILY DEAL #2 – $26.99
Large 18″ Pizza, Large Tossed Salad, Mozzarella Sticks, 2 Liter Soda (Pitcher for Dine In)
FAMILY DEAL #3 – $40.99
2 Large 18″ Pizzas, 12 Garlic Knots, Large Antipasto, 2 Liter Soda (Pitcher for Dine In)
FAMILY DEAL #4 – $27.99
Large 18″ Pizza, 2 – 10″ Sandwiches (Your choice of any 2), 2 Liter Soda (Pitcher for Dine In)
Offers Cannot be Combined • Sales Tax not Included