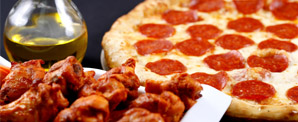 We offer off-premises catering for all occasions. Choose pick-up or delivery. Our associates will even help with setup.
Monday, March 9 – Sunday, March 15
Check back weekly for new specials!
1) Mamma Mia Salad – $8.99
Chopped breaded chicken tossed with fresh mozzarella and tomatoes, seasoned with olive oil and balsamic.
2) Soup & Slice Combo – $5.99
Choice of small soup (chicken noodle, pasta fagioli, lentil or minestrone) and one cheese slice (toppings extra).
3) Half 6″ Cheese Steak Sandwich with Fries – $7.99
Philly cheese steak topped with peppers, onions and American cheese. Served with side of fries.
4) Italiano Chicken Wrap – $8.25
Breaded chicken, bruschetta and provolone cheese on your choice of a plain or whole wheat wrap. Includes bag of chips.
5) Gyro with Fries – $7.99
Choice of lamb or chicken with lettuce, tomatoes, onions and tzatziki sauce. Served with a side of fries.
6) Eggplant Parm over Pasta - $12.99
Eggplant topped with tomato sauce and mozzarella cheese over your choice of pasta. Includes salad.
Franco's Specials
MONDAY – CHICKEN DINNER NIGHT
Any Chicken Dinner for $11.99 (Includes Pasta & Salad)
4-8pm, Dine in Only
TUESDAY – PIZZA NIGHT
Large 18″ Pizza for $9.99 (Limit 2 • Toppings Extra • Excludes Specialty Pizzas)
4-8pm, Dine in Only
FAMILY DEAL #1 – $22.99
Large 18″ Pizza, 8 Wings, 2 Liter Soda (Pitcher for Dine In)
FAMILY DEAL #2 – $29.99
Large 18″ Pizza, Large Tossed Salad, Mozzarella Sticks, 2 Liter Soda (Pitcher for Dine In)
FAMILY DEAL #3 – $43.99
2 Large 18″ Pizzas, 12 Garlic Knots, Large Antipasto, 2 Liter Soda (Pitcher for Dine In)
FAMILY DEAL #4 – $30.99
Large 18″ Pizza, 2 – 10″ Sandwiches (Your choice of any 2), 2 Liter Soda (Pitcher for Dine In)
Offers Cannot be Combined • Sales Tax not Included